Nairobi Airport Transfers and Nairobi Airport Hotel Shuttle
Nairobi airport transfers and Nairobi Airport Hotel shuttle is our business.
This is where we began our operations before we spread our wings to other Airports.
Learn about Jomo Kenyatta Airport JKIA and the Nairobi airport transfers options available at the Nairobi International Airport
About Nairobi city and hotels
Nairobi city is one of the biggest cities in Kenya and the whole East African region.
It has been the capital city with a population of approximately 3.4 million people.
It is considered to be the gateway to the East African region.
There are all classes of hotels ranging from 2-star to 5-star, including international hotel chains.
Nairobi is home to more than 300 tourist hotels and many other guest houses and budget hotels.
There is certainly any room rate for every person coming to Nairobi for Business and for Leisure.
It is home to some of the biggest brands in the hospitality industry including, the Marriott, Hilton Hotels, Ibis Styles, Radisson Group,
The city also boasts of other unbranded good hotels including Serena Hotels, Sarova Hotels, Panari Hotels and the Boma hotels
Nairobi City Tour - 100 Usd Only
There is no better way to know about the beauty of any town / city than to book for an organized city tour.
Book the below tour with our taxi-driver-guide who knows the city inside out.
http://tours.kaributaxi.com/book/cheap-nairobi-city-tour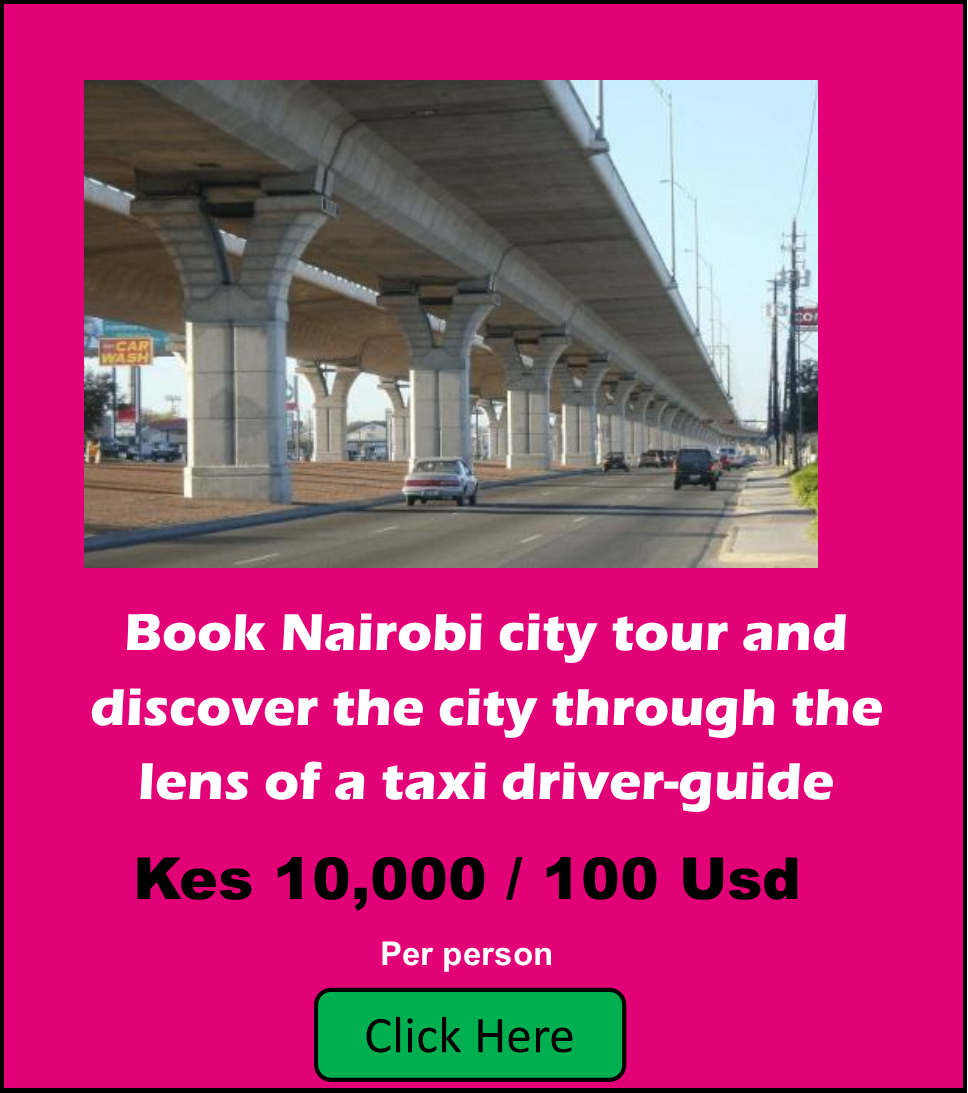 About Nairobi International airport (NBO)
Jomo Kenyatta International Airport (IATA: NBO,) is an international airport in Nairobi Kenya which is the capital city and largest city in Kenya.
It is located approximately 15 kilometers from Nairobi City Centre.
It has been named the 7th busiest airport in passenger traffic on the continent.
The Nairobi International Airport (JKIA) is considered to be a transport hub and ideal gateway into and out of East and Central Africa.
Jomo Kenyatta International Airport is the flagship airport of The KAA.
The airport has recorded over 40 passenger airlines and 25 cargo airlines.
Nairobi International Airport, formerly called Embakasi Airport and Nairobi International Airport, is Kenya's largest airport. It's also the busiest airport in East Africa.
Nairobi Airport is comparatively impressive in the region.
It has most of the traveler facilities. i.e, hotels, restaurants, coffee shops, boutiques, curio shops, and convenient stores.
Nairobi town has a robust nightlife and world-class gastronomy offered by its restaurants.
There are several suburbs; Westlands, Hurlingham, Upper Hill, Lang'ata, Karen etc.
We will compliment your perfect holiday with a smooth and seamless Transfers service from the airport to your hotel.
There is plenty of action at Nairobi Airport too, with international clothing brands blended with local designers and the range of duty-free shops.
As you transact business, you can sip your Kenyan coffee which is known worldwide in an airport restaurant.
You can fly from Nairobi Airport to various towns in Kenya as well as the region. The Nairobi Airport serves as a hub for the Kenya Airways,
You can fly to these destinations from Nairobi International Airport. Entebbe, Kisumu, Arusha though Kilimanjaro Airport, Mombasa, Eldoret, Zanzibar, Kigali Rwanda, Ukunda using Jambojet.
Jomo Kenyatta International Airport (
IATA
: NBO,
ICAO
: HKJK) is an
international airport
in
Nairobi
, the capital of and largest city in
Kenya
.
Located in the Embakasi suburb 15 kilometers (9 miles) southeast of Nairobi's central business district, the airport has scheduled flights to destinations in over 50 countries.
The airport is named after Jomo Kenyatta, Kenya's first president and prime minister.
The airport served over 7 million passengers in 2016, making it the seventh busiest airport in passenger traffic on the continent.
Source: Wikipedia
Welcome to the Jomo Kenyatta International Airport in Nairobi, Africa's premier hub and ideal gateway into and out of East and Central Africa.
JKIA is the flagship airport of The KAA.
The airport boasts of over 40 passenger airlines and 25 cargo airlines.
Jomo Kenyatta International Airport, formerly called Embakasi Airport and Nairobi International Airport, is Kenya's largest aviation facility, and the busiest airport in East Africa.
Its importance as an aviation center makes it the pace setter for other airports in the region.
About Wilson Airport
The Wilson airport serves domestic and international traffic mostly the international traffic is from counties in east Africa like Tanzania, Uganda or Zanzibar.
It is used mostly by general aviation traffic.
It has helped the growth of tourism, health care and agriculture in the region.
It serves mostly the small airlines use Wilson Airport for scheduled domestic passenger services, instead of Jomo Kenyatta International Airport.
Some of the airlines served by the airport include; ALS, Flysafarilink, Flysax, Airkenya, Fly540, Skyward Express, Silverstone air. Some airlines also organize Nairobi airport transfers for their passengers.
Search Tags
Nairobi Airport transfers, Nairobi Airport Taxis
How to book Airport Transfers and taxis from and to Nairobi
Find, pre-book the lowest price Nairobi airport taxi Transfers guaranteed.
The system allows you to search for the cheapest and convenient airport Transfers option.
Our private airport Transfers service from Nairobi airport is professional, reliable and affordable.
How do we guarantee reliability to provide you with seamless Nairobi Airport Transfers?
You will be met at the airport in Nairobi by one of our English speaking drivers, which means no waiting for a taxi in line or haggling with taxi drivers and tour companies looking for a business.
Up to one hour of waiting time is included for airport Transfers.
If your flight is delayed or rerouted, the driver assigned to you monitors and adjust the pickup time from Nairobi airport based on the new flight arrival time and reschedule your Nairobi Airport Hotel shuttle accordingly.
If there are issues to do with immigration or luggage which are rare at the Nairobi Airport, we will also be waiting for you.
Our cancellation policy is very flexible.
Whereas there is a public transport system operating from the Nairobi International airport, you might find it difficult to navigate as the bus terminal is quite far from the arrivals terminal.
You might find it as it's not as efficient as in developed countries.
There is no railway terminal at the Nairobi Airport.
When you book with us, your Nairobi airport Transfers with us, the driver assigned to you will be there to pick you up at Nairobi Jomo Kenyatta International (NBO) after baggage claim.
The drivers are not allowed to enter the arrivals hall.
He will be more than willing to assist you with your luggage and help you get a local telephone line if need be.
Benefits of pre-booking your Nairobi Airport transfers before you travel
Whereas there are taxi hailing companies operating from the Jomo Kenyatta International Airport which offer Airport Transfers.
Your mobile data might not be configured to enable you to hail a taxi from the airport. That is why it is highly advice you either organize with your hotel, or your travel agent or you book your private Nairobi Airport Hotel shuttle
To be sure of your Nairobi Airport Transfers, you can book your Nairobi Airport Hotel shuttle with us and beat the taxi queues on arrival. You will also avoid also any needless hassle when you land and you want to quickly get to your hotel.
There are occasionally special offers which you can take advantage of in online booking portals, this will cover a wide choice of Transfers options including private cars and vans.
Searching and pre-booking will guarantee you cheap Transfers and not harm your budget, whether you are travelling for business or leisure.
The vehicles are available for Nairobi Airport Transfers and Nairobi Airport Hotel shuttle range from low-cost sedan cars and minivans.
The luxury, executive and big buses are arranged on request.
Hotels near Nairobi International Airport
All hotels in Nairobi are not so far away from the JKIA airport.
A quick search on the internet will reveal various hotels that are close to the airport.
For example, if you click on these sites you will see the results for "hotels near Nairobi Airport" yourselves. Expedia, booking.com, trivango, trip advisor, jumia travel, Agoda,
Some for sure are not so close and you might not consider them if you are thinking of taking an early flight.
Relying on booking metasearch sites might not be the best.
Some provide scheduled vans that can pick you to and from the airport or organize airport Transfers for you at a fee.
Some booking sites will ask you to add airport Transfers while making a booking.
There are many reasons you want to spend the night at a hotel closest to the Nairobi airport according to Airport Parking Shop.
Save money on Your Nairobi airport transfers as the less distance it is from the airport the less money you will pay.
For some hotel below the cost could be as little as 500 dollars 67 Airport Hotel - Nairobi airport Hotel. It's is less stressful especially during peak hours when there is a lot of traffic.
Some hotels also offer park and fly programs and this can save you money when you are parking at the airport for a prolonged period of time.
Airport Hotels are not necessarily expensive and you can get very good rates.
All this not forgetting the views of the runway.
It's however important to check hotels with soundproof as you might not want jumbo jets waking you up.
We have gone ahead and sampled hotels that we know are closest to the Nairobi International airport and their websites.
Just click on the hotel. Booking directly might be cheaper than booking through third-party booking sites
Hotel near Nairobi Airport
Hotel near Wilson Airport
Nairobi Airport Hotel shuttle
Some Hotels provide a Nairobi airport shuttle if they were expecting you. This is when they can see your name in the reservation system.
While some hotels are genuine to advice their client that the Nairobi Airport Shuttle paid for and will be included in the total charges, some hotels will not disclose this information as guest might think it is a complementary service.
We have rogue reservation agents who will collude with providers of Nairobi Airport Hotel shuttle and give them your name.
The driver will page you at the airport and since he will have the hotel big placard, the gust might think it is his driver, especially id he or she had booked and paid for another service.
Of course the driver will part with some commissions for this.
A guest might fail to see his driver and therefore might pay twice.
There are no Scheduled Nairobi Airport Hotel shuttle from the city center or Westland's hotels
The national carrier had attempted to develop a product whereby the intention was to provide Nairobi Airport Hotel shuttle to pick air travelers at a designated spot in Nairobi at the cost of Ksh 1000 equivalent to USD 10
Nairobi Airport Transfers
You are here since you must have searched Nairobi Airport Transfers or Nairobi Airport Taxi or similar search terms.
First of All it is good to pre-book tour transfer ahead of your Travel.
We have done a comprehensive bog of why you need to pre-book your transfer in Nairobi.
You can check it out here>>> Benefits of pre booking an airport Transfer in Nairobi
In addition to the reasons given, it is always cheaper to book online as taxi companies are scrambling for that dollar.
If you book via the hotel or you wait to come and haggle with airport taxis, there is a risk of being over charged.
We provide the fastest, easy, cost effective way to compare and pre-book airport, point to point airport transfers, taxis and any other mode of transportation in Nairobi Airport.
The reason we are able to do this is that we aggregate many providers and our system will be able to give you the cheapest rate.
Just try and Book from our booking engine at the right/
You can also access the booking engine via its page
https://www.kaributaxi.com/booking
When booking using our website, you will find the lowest rates in Nairobi international Airport for; airport shuttle rides, shared ride vans, private van and taxis transfers and private sedans, vans, sedans.
All these options will are available in our booking platform
We can also provide all types of rides including door to door service for your convenience including hotel shuttles to and from all airport terminals.
What to look for your Nairobi Airport Transfer
Safety and comfort.
Ensure when you are booking to ask the company about the age of their fleet. This is largely so because the newer the vehicle the more comfy it will be.
We use a modern fleet of well-maintained fully insured vehicles.
We can also provide transfer services for an extended period of time for business travelers requiring constant movement.
We can also organize transfers to other distant towns from Nairobi. E.g. Nyeri, Nakuru, Thika, Naivasha etc.
Whether you are traveling for business or for leisure, whether you are by yourself or a group, with your family, whether you are an international travel agent or organizing transportation for a group, we can meet your expectations.
Our friendly, professional drivers provide prompt, courteous service to the entire City from the airport to the hotel.
We will monitor your flight and monitor any delays. If you are not happy with your hotel, we will transfer you to another hotel without hustles.

About Nairobi
Nairobi is the most industrialized city in Kenya, and it is the country's capital city.
Numerous multinational companies and organizations have their regional headquarters in Nairobi because it is the fastest growing city in East Africa.
From Nairobi, business and leisure travellers can visit destinations in Kenya like Nairobi JKIA, Mombasa, Lamu, Nanyuki and Maasai Mara. Additionally, Nairobi is connected to cities in the region, such as Arusha and Kampala.
You can easily find accommodation close to the main entertainment districts, for example, in Westlands.
Explore malls like the Sarit Centre, two rivers mall, restaurants and vibrant nightclubs.
Westlands is one of the most vibrant neighborhoods, with a variety of restaurants, entertainment and recreational centers.
How to prepare for your Nairobi Airport Transfers
To avoid the hassle of looking for a taxi at the Airport and the bother by the aggressive taxi drivers looking for business, it's better to pre-book.
You will pay less as the airport drivers might be tempted to charge exorbitant prices to un-suspecting tourists and other foreigners.
We offer a complete FREE meet and greet service at Jomo Kenyatta International Airport Nairobi.
How to make a booking for your Nairobi Airport Transfers
Please use our booking engine to pre-book and pay for your airport transfer.
When you search fares, various options will populate starting from the cheapest fares.
Please continue in the normal way you would book a flight ticket.
We will be waiting for you with your name in a visible card outisde the gate where you will disembark.
Please do not get confused by the drivers looking for business. Some collude with airport officials to advice you that the driver is not there while still at the airport.
Nairobi Airport Transfers Search Tags
Tour group airport transfers, JKIA International Airport, IATA Code (NBO), Wilson Airport Transfers And Private Transfers or taxis in Nairobi, Book Nairobi Jomo Kenyatta airport taxi from Nairobi airport, Chauffer driven car or bus hire In Nairobi ,Kenya's largest and Busiest Airports, Nairobi Wilson Airport IATA code (WIL), Nairobi Airport Departures to various hotels in Nairobi Towns and suburbs, Transfer From Nairobi Airport To Wilson airport Nairobi or from Nairobi hotels, Nairobi JKIA Transfers, Taxi, Shuttle, Coach, Bus, Cabs Transfer, Private, Luxury Airport Transportation, Nairobi JKIA Shuttle, Nairobi JKIA Airport Shuttle, Nairobi JKIA Taxi Service, Nairobi JKIA Shuttle Service, Nairobi JKIA Shuttles, Nairobi JKIA Taxis, Nairobi JKIA Airport Transportation, Nairobi JKIA Taxi Cab, Nairobi JKIA Airport Taxi, Nairobi JKIA Super Shuttle, Nairobi JKIA Taxi Cabs, Diani Airport Bus, Nairobi JKIA Airport Shuttles, Nairobi JKIA Airport Shuttle Service, Nairobi JKIA Airport Limousine, Nairobi JKIA Transport From, Nairobi JKIA Airport Shuttle Bus, Nairobi JKIA Airport Van, Nairobi JKIA Cheap Transportation, Nairobi JKIA Car Shuttle
Frequently asked questions for Your Nairobi Airport Transfer
How much is a taxi from Nairobi airport to the city centre?
The price rages from 20 usd to 40 Usd depending on the type of the vehicle.
Just use the booking engine to calculate the price.
Where do I meet my driver?
As soon as you walk out of the arrivals terminal, you will see your smiling driver waiting for you, holding a sign with your name written on it. Ensure you come outside the arrivals hall.
What do I do if my flight is delayed?
We monitor your flight and the driver will wait for you till you disembark.
Is the cost of a Nairobi airport taxi per person?
Every price you see on our site is per vehicle. You can fill both our minivans and sedans for one set price, with no hidden extra costs.
What if I have baggage complications and Visa delays
The driver will still be waing for you, never mind.
Nairobi Airport Transfers rates 2020 / 2021
| | |
| --- | --- |
| Nairobi Airport to Mombasa Road | 20 USD |
| Nairobi Airport to CBD | 25 USD |
| Nairobi Airport to Karen | 30 USD |
| Nairobi Airport to Nairobi Wilson | 25 USD |
| Nairobi Airport to Kilimani | 28 USD |
Nairobi hotels serviced by the JKIA Airport (NBO)
You might want to know few hotels in Nairobi
Please google each and every hotel. And book online from OTAs like booking.com
We hope this information is conclusive, however, if you would like to reach out to us, please do so, we will gladly help.
You can also quickly reach out to us on:
OR
+254732905343 – This is a WhatsApp number.